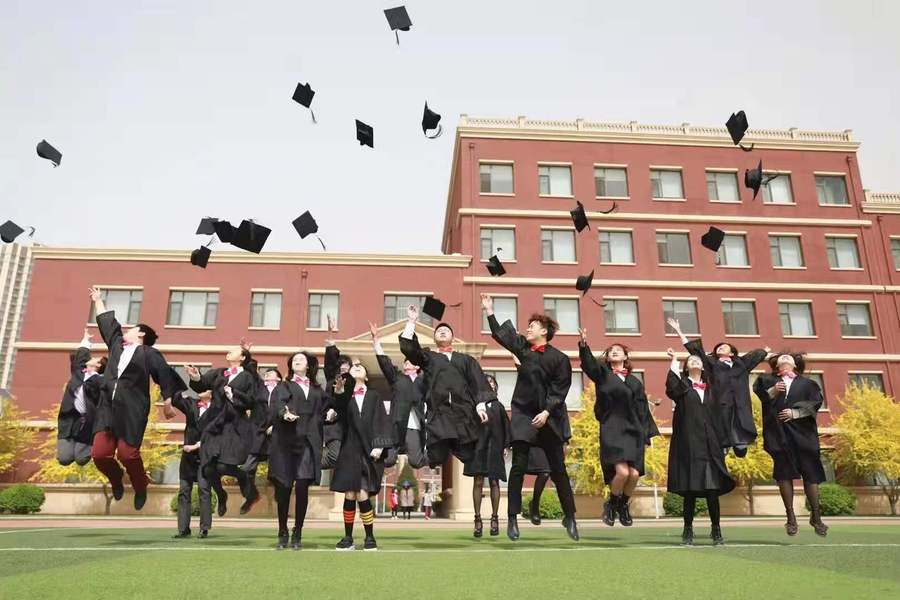 又是一年毕业季。美达菲学校2021届的毕业生即将结束高中生涯,前往自己心仪的大学开启新的求学之旅。
It's another year's graduation season. The 2021 graduates of MacDuffie School are about to finish their high school career and start a new adventure at the university of their dreams.

美达菲2021届毕业生不仅延续了前几届学生的优异表现,而且取得了极为亮眼的大学申请结果:到目前为止,2021届学生共计斩获9个国家113所世界名校的365份Offer!
The 2021 MacDuffie graduates not only continued the exceptional performance of previous students, but also achieved outstanding university application results: so far, 2021 students have got 365 offers from 113 world famous schools in 9 countries!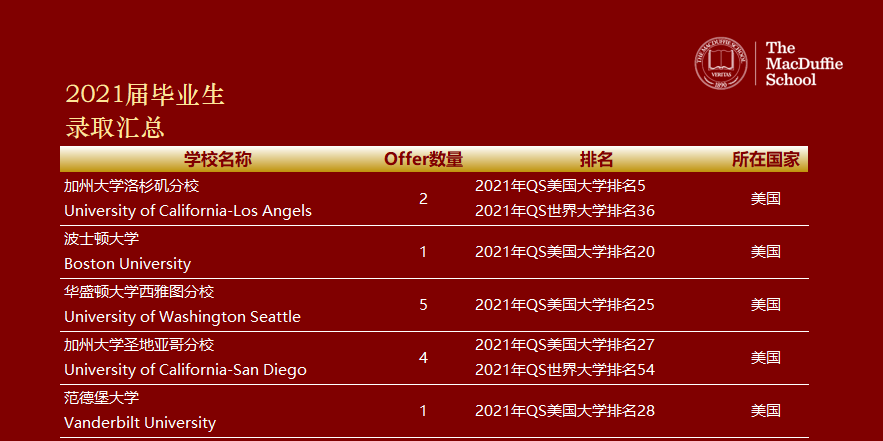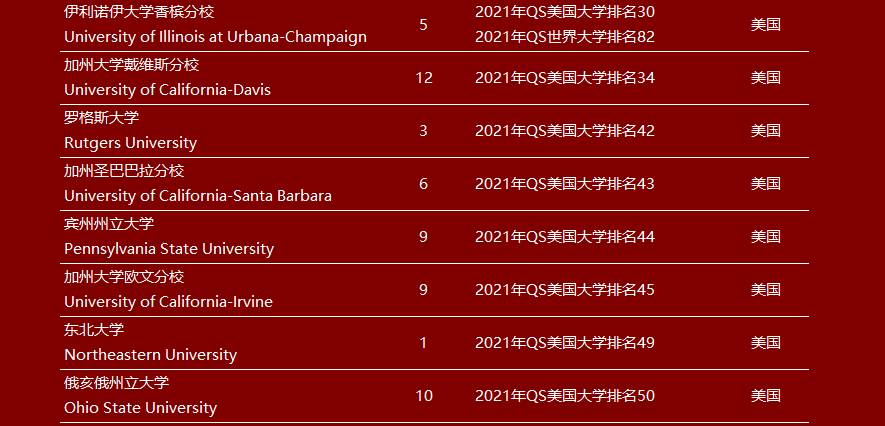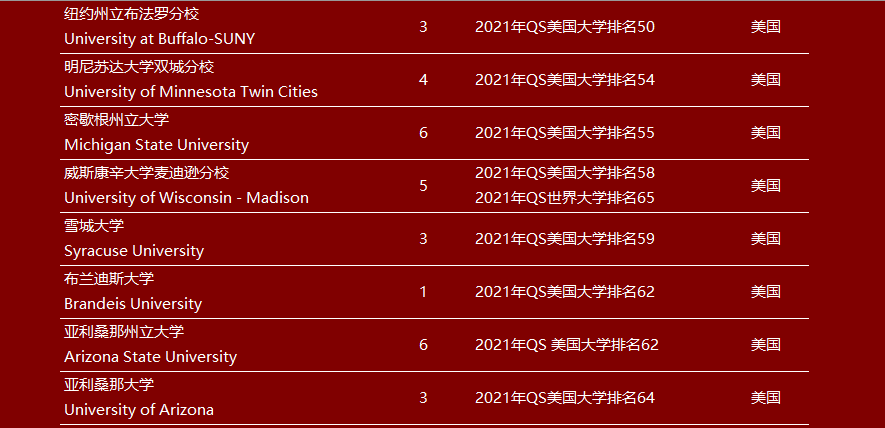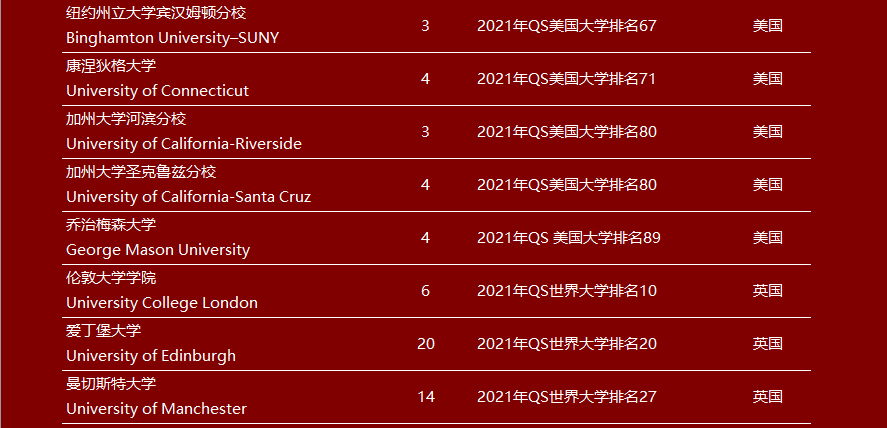 名校录取率高
High admission rate of famous universities
• 46枚世界Top30大学录取

• 161枚世界Top100大学录取
• 18枚美国Top30大学录取
• 73枚美国Top50大学录取
• 122枚美国Top100大学录取
• 32枚加拿大医博类Top10大学录取
• 15枚澳洲八大录取
•46 offers from top 30 universities in the world
•161 offers from top 100 universities in the world
•18 offers from top 30 university admissions
•73 offers from top 50 university admissions
•122 offers from top 100 University Admissions
•32 offers from top 10 universities of Canadian Medicine
•15 offers from Australian top 8 universities
更有众多欧美顶级艺术学院、酒店管理学院等,可谓遍地开花,世界名校录取率高达95%!
There are many top art colleges in Europe and America, Hotel Management Colleges, etc., which are all over the world, with an enrollment rate of 95%!
留学国家多样化
Diversity of Countries Studying Abroad
美达菲历届毕业生均备受世界各国名校青睐,2021届毕业生留学目的地已涵盖了当前主流的留学国家和地区:美国、英国、加拿大、澳大利亚、新西兰、瑞士、德国、韩国……
All previous graduates of MacDuffie are favored by famous universities all over the world. The destinations of 2021 graduates have covered the current mainstream countries and regions: The United States, the United Kingdom, Canada, Australia, New Zealand, Switzerland, Germany, South Korea.

今年的留学申请再次体现了美达菲学校国际课程学术含金量高、申请范围广、成绩在世界各国名校均受认可的特点。
This year's applications for studying abroad once again reflects the characteristics of high academic value, wide range of applications, and recognized results in the world's famous schools.
专业多样化
Professional Diversity
与以往相同,充分明确自己的兴趣与专长、结合将来的职业规划申请心仪的大学是美达菲学子在申请时的一大特点。美达菲历届毕业生人均收获3-5份来自不同国家、不同学校的Offer,真正实现学生和名校间的双向选择。
As in the past, it is a major feature of MacDuffie students to fully identify their own interests and expertise, and apply for their favorite university in combination with their future career planning. Every graduate of MacDuffie has received 3-5 offers from different countries and schools, truly realizing the two-way choice between students and famous schools.

2021届毕业生的录取专业非常多样化,涵盖人文社科,商科、自然科学、艺术类等众多专业,涉及数学、物理、生物化学、计算机、心理学、传媒、商业管理、酒店管理、游戏设计、平面设计、插画……
The admission majors' of 2021 graduates are very diverse, covering Humanities and Social Sciences, Business, Natural Science, Art and many other majors, involving Mathematics, Physics, Biochemistry, Computing, Psychology, Media, Business Management, Hotel Management, Game Design, Graphic Design, Illustration.

其中艺术方向的申请,同学们拿到了20多份Offer,包含专业世界排名第二的英国伦敦艺术学院Offer和专业世界排名第三的瑞士格里昂酒店管理学院offer。
Among them, students have received more than 20 offers in artististic subjects, including an offer from London Academy of Arts, which ranks second in the professional world, and the offer from Glion Institute of Higher Education Management, which ranks third in the professional world.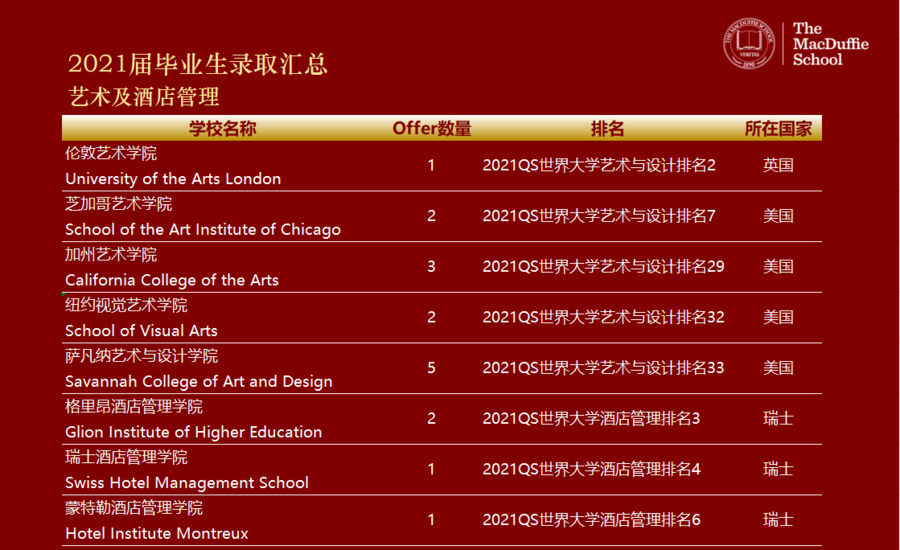 一个多世纪以来,美达菲人始终秉持卓越的教育理念,为社会各界培养了无数优秀人才。
For more than a century, MacDuffie has always adhered to the concept of excellence in education, and have cultivated countless talents for all sectors of the society.
如今,美达菲人依旧继承这份传统,继续为中国培养越来越多具有价值、有责任心、尊重多元文化的世界公民。
Today, MacDuffie still values this tradition and continue to cultivate more and more valuable, responsible and multicultural world citizens for China.

今年,美达菲毕业生在留学目的地、申请院校及专业选择上所展现出来的广泛性与多样化,再次证明了美达菲先进的教育理念、稳健有序的课程体系以及丰富多样的校园文化不仅得到了世界各国名校的高度认可,也为学生们成为一个有价值、有责任心、尊重多元文化的世界公民打下了坚实的基础,更是为他们将来走向世界提供了无限的自由与可能。
This year, MacDuffie graduates show a wide range and diversity in their destinations for studying abroad, the colleges they apply for and their major choices, prove once again that MacDuffie's advanced education philosophy, steady and orderly curriculum system and rich and diverse campus culture have not only been highly recognized by famous schools all over the world, but also become a valuable, responsible and professional university for students Respect for multicultural world citizens has laid a solid foundation, but also for their future to the world to provide unlimited choice and possibility.
2021届毕业生名校OFFER(部分)
2021 graduates of famous schools OFFER (Partial)