上海美达菲以怀中国心,做世界人为办学理念。传承中国优秀文化传统,培养学生热爱祖国的情怀,同时对标世界一流教育理念和教学方法,全方面培养学生的综合素质,使其成为卓越的世界公民。
Shanghai Macduffie takes the Chinese mind and the world as its school-running philosophy. Inherit China's excellent cultural traditions, cultivate students 'feelings of loving the motherland, and at the same time benchmark the world's first-class education concepts and teaching methods, cultivate students' comprehensive qualities in all aspects, making them outstanding world citizens.
在开设国际课程培养学生的学术能力和创新精神的同时,学校通过开展丰富多彩的课外活动和社团,让学生从实践中学习,形成通过学习更好地服务集体和社会的使命感,探索发现自身特长,培养学生对集体的关心,提高团队合作、沟通表达等软实力,形成坚韧不拔、自信乐观的品质。
While opening up international courses to cultivate students' academic abilities and innovative spirit, the school develops a variety of extracurricular activities and associations to allow students to learn from practice, form a sense of mission to better serve the collective and society through learning, and explore and discover their own strengths, cultivate students' care for the collective, improve the soft power of teamwork, communication and expression, and form a tenacious, confident and optimistic quality.
世界眼光
World vision
为培养学生对世界多元文化的尊重,加深对世界的了解,开展让学生赴美国美达菲本校研学,邀请美国师生来校访问和Homestay等主题活动,把世界当作了学生的校园。

In order to cultivate students' respect for the world's multiculturalism and deepen their understanding of the world, we carried out thematic activities for students to study at Macduffie School in the United States, inviting American teachers and students to visit the school and Homestay, etc.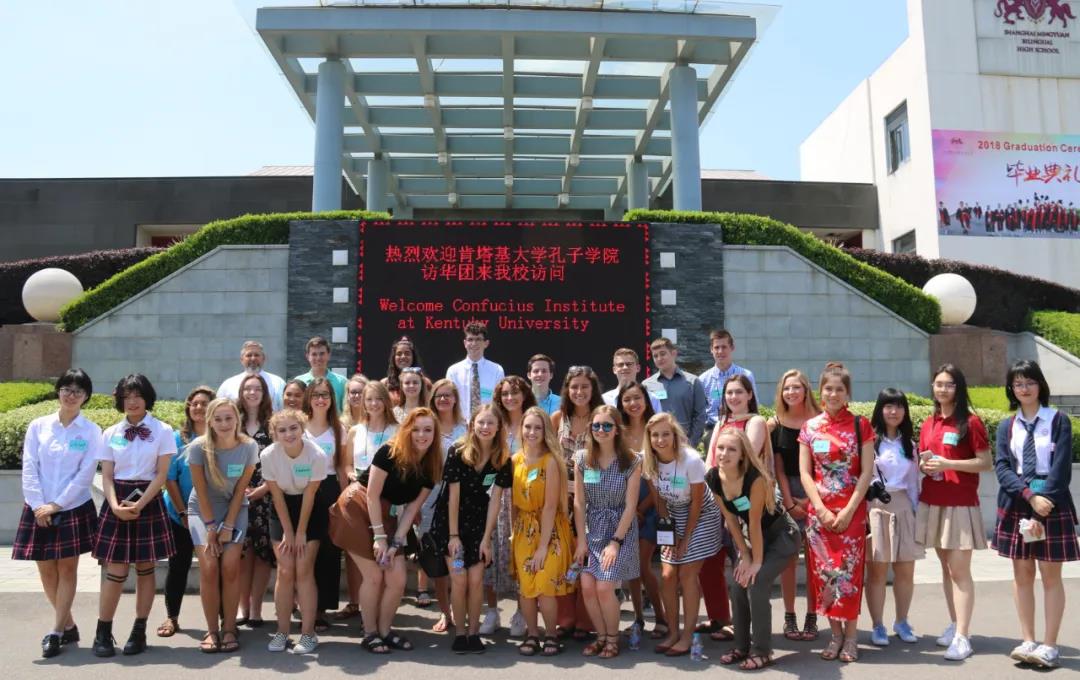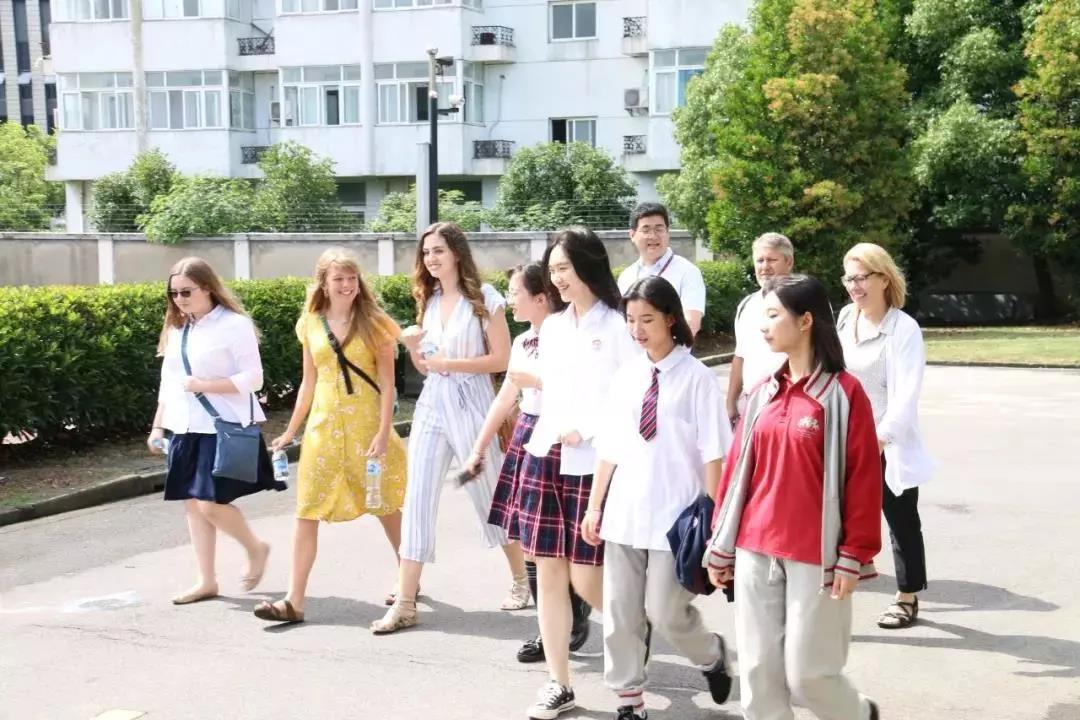 美国肯塔基大学孔子学院代表团访问我校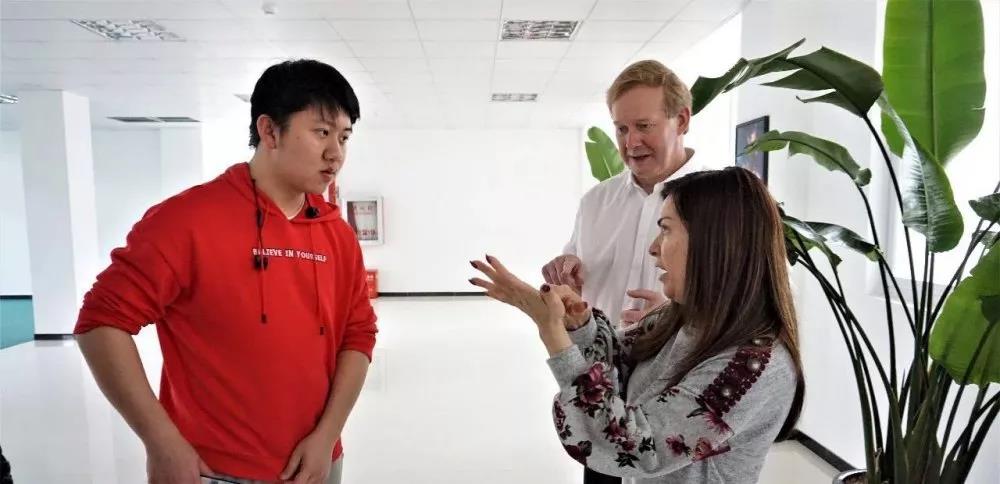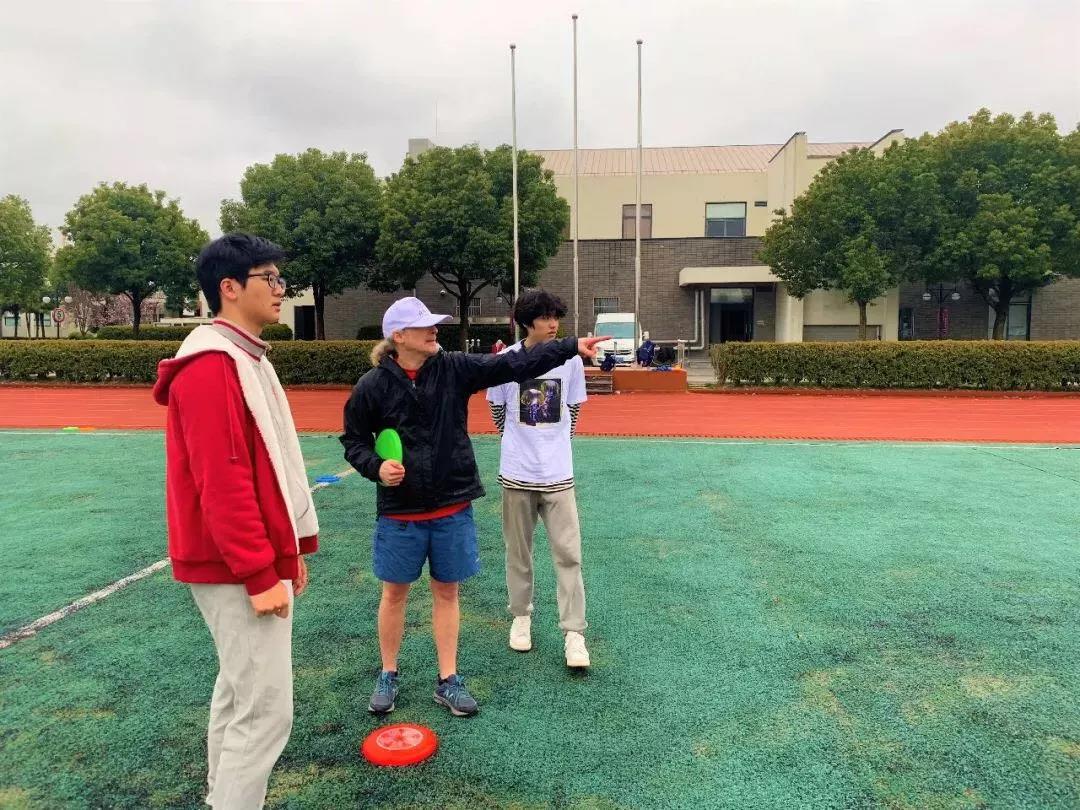 美国美达菲哈佛耶鲁背景教师来我校授交流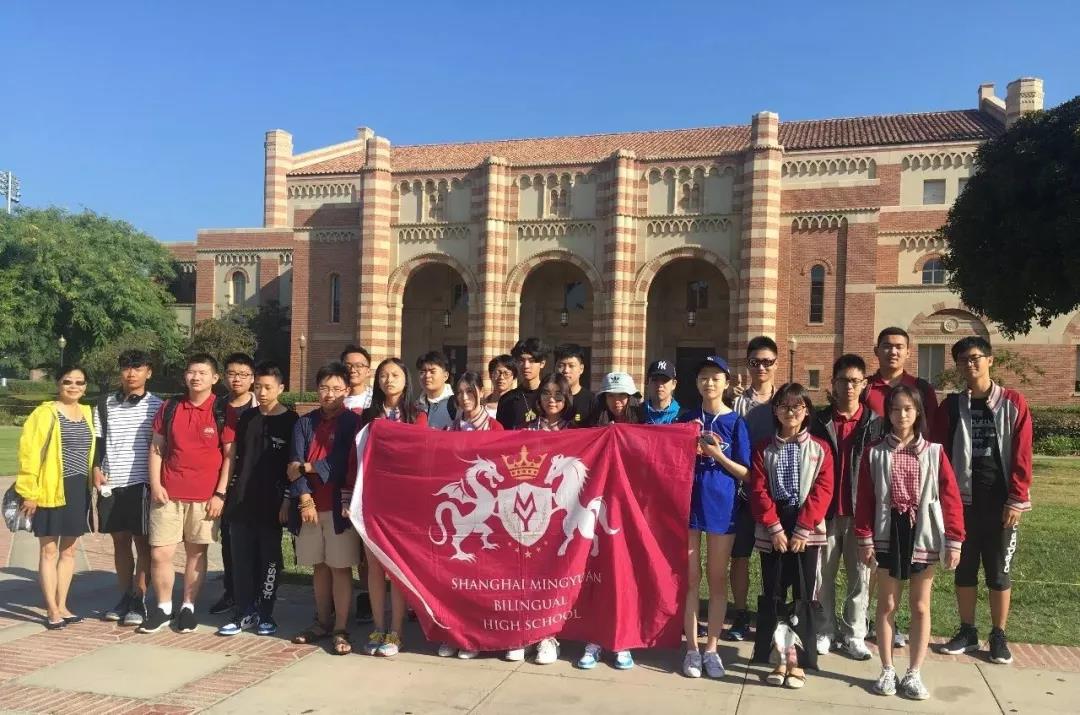 我校学生赴美研学
Our students go to the United States to study
不忘中国心
Never forget the Chinese heart
有一门课,它不需要考试,也不会评分,但却让人心灵成长,终身收益。有一间教室,它没有围墙,也没有桌椅,但却让人在这里学到中国传统文化知识。春季探究性社会实践就是这样的课堂,学生走出校园,用脚步丈量中国大好河山,感受中国传统文化。
There is a course that does not require exams or grades, but it makes people grow spiritually and earns a lifetime. There is a classroom, which has no walls, tables and chairs, but it allows people to learn traditional Chinese culture here. The spring exploratory social practice is such a classroom. Students walk out of the campus and use their footsteps to measure the great Chinese mountains and rivers and feel the traditional Chinese culture.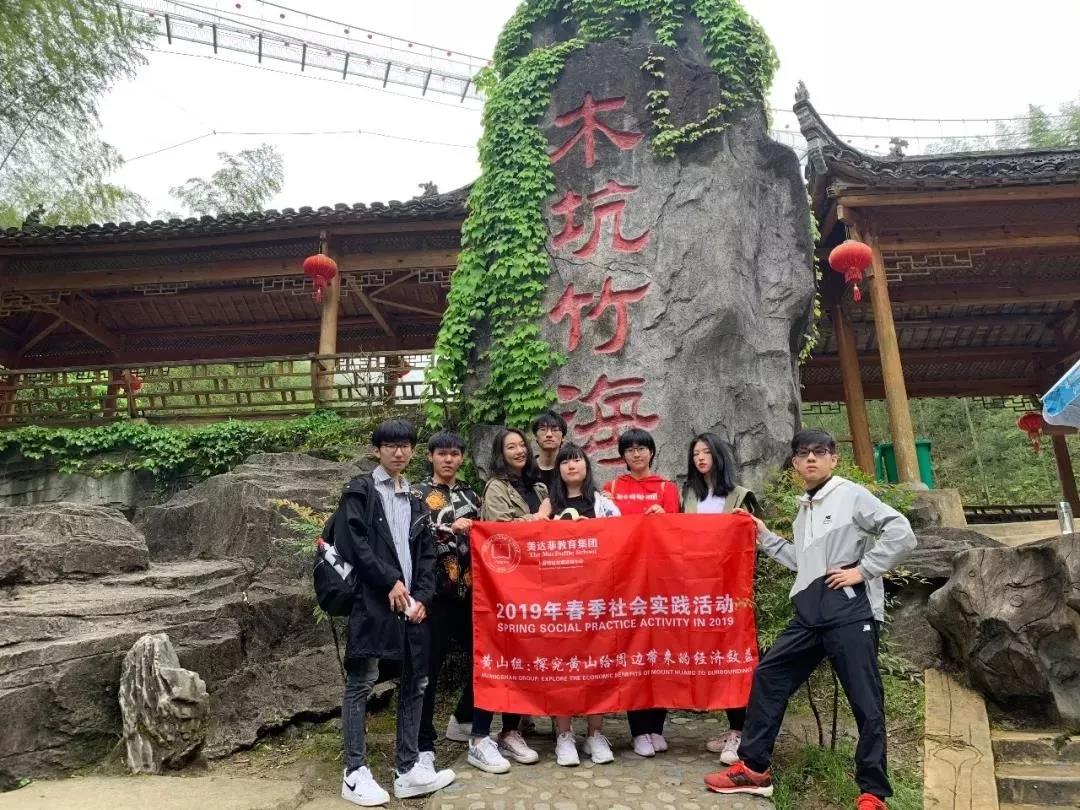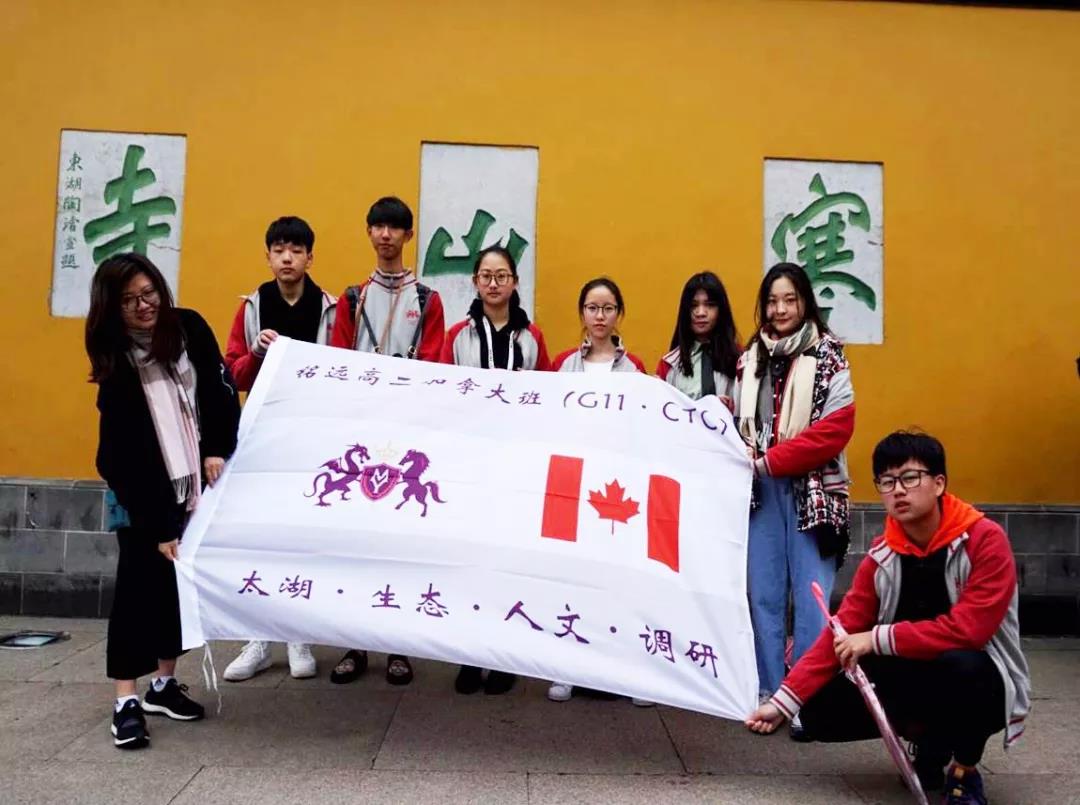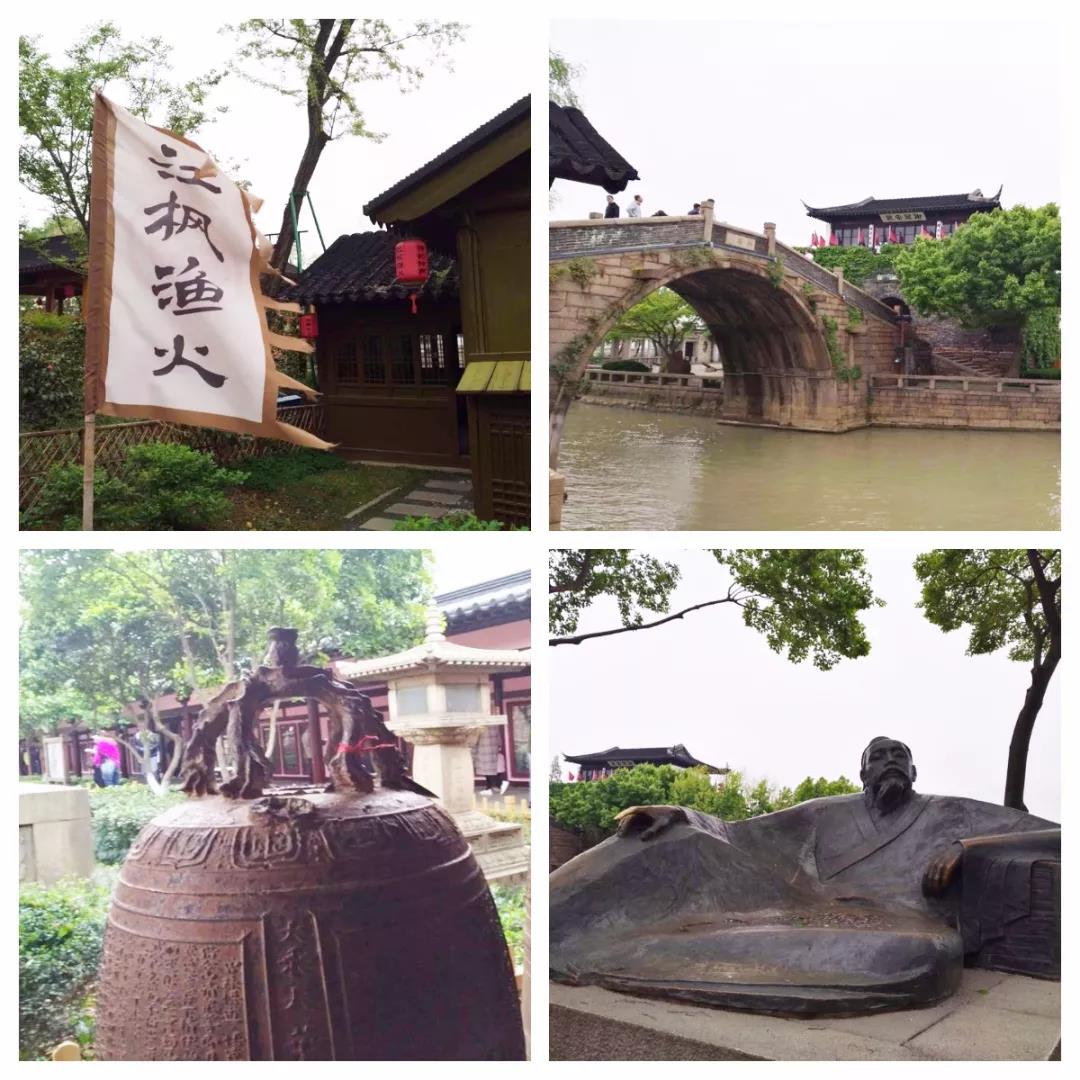 春季社会实践
Spring Social Practice
集体责任感
Collective responsibility
培养学生对社会和集体的关心,致力于在服务社会中实现自身价值是哈佛和耶鲁等世界名校极力倡导的价值观。我校也将"集体"作为核心价值观,作为上海市公益基地之一,学校通过组织丰富多样的公益活动让学生对所在社区和社会做出积极的贡献。其中CTC课程要求学生在高中阶段完成至少20小时的校外社会实践,美高课程和IB课程也同样要求学生完成包括志愿活动在内的其它社会活动。
Cultivating students' concern for society and the collective, and committing to realize their own value in serving the society are the values that Harvard and Yale and other world-renowned schools strongly advocate. Our school also regards "collective" as its core value, as one of Shanghai's public welfare bases. By organizing a variety of public welfare activities, the school allows students to make positive contributions to their communities and society.Among them, CTC courses require students to complete at least 20 hours of out-of-school social practice in high school, and Macduffie courses and IB courses also require students to complete other social activities including voluntary activities.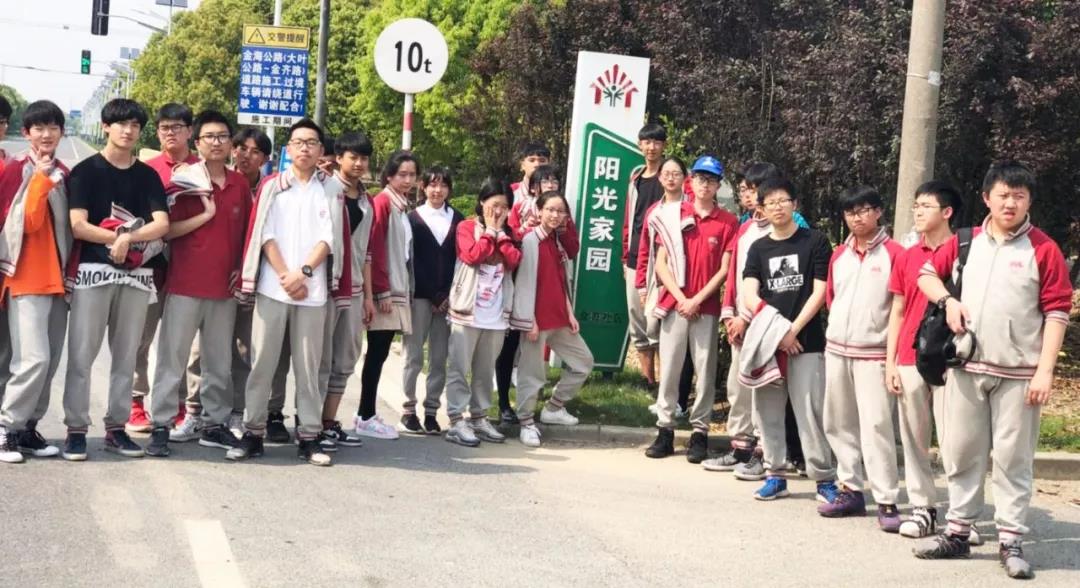 "阳光家园"帮助残障人士活动

"Sunshine Home" helps disabled people activities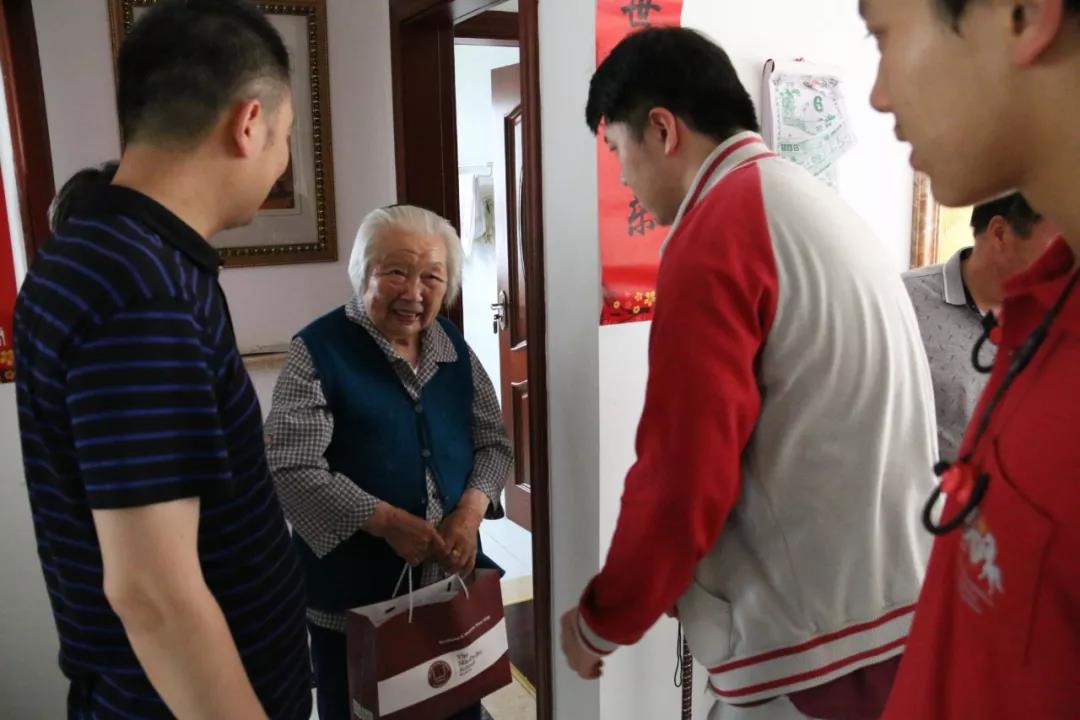 上海美达菲师生一起亲手包制粽子,在端午前一日,师生与村委会一起将亲手包的香棕送到了金海社区90岁及以上高龄老人家中。
Shanghai Macduffie teachers and students packaged dumplings with their own hands. On the day before the Dragon Boat Festival, teachers and students and the village committee delivered the hand-wrapped fragrant browns to the homes of 90-year-old and older people in the Jinhai community.
追求卓越
Pursue excellence
美达菲鼓励学生不断进取,追求卓越,无论是学术上,还是在各种活动中,都力图让学子发挥出最大的努力去力争上游。学校先后举办了宾夕法尼亚大学常春藤模拟联合比赛、Microbiz模拟商赛,世界顶级的滑铁卢数学竞赛等,通过搭建丰富的平台,让学生展示各方面的才能,证明自己的独特才华。
Macduffie encourages students to keep making progress and pursuing excellence. Whether in academics or in various activities, they strive to let students exert their best efforts to strive for the upper reaches. The school has organized the University of Pennsylvania ivy simulation joint competition, Microbiz simulation business competition, the world's top Waterloo math competition, etc., through the establishment of a rich platform for students to show their talents in various aspects, to prove their unique talents.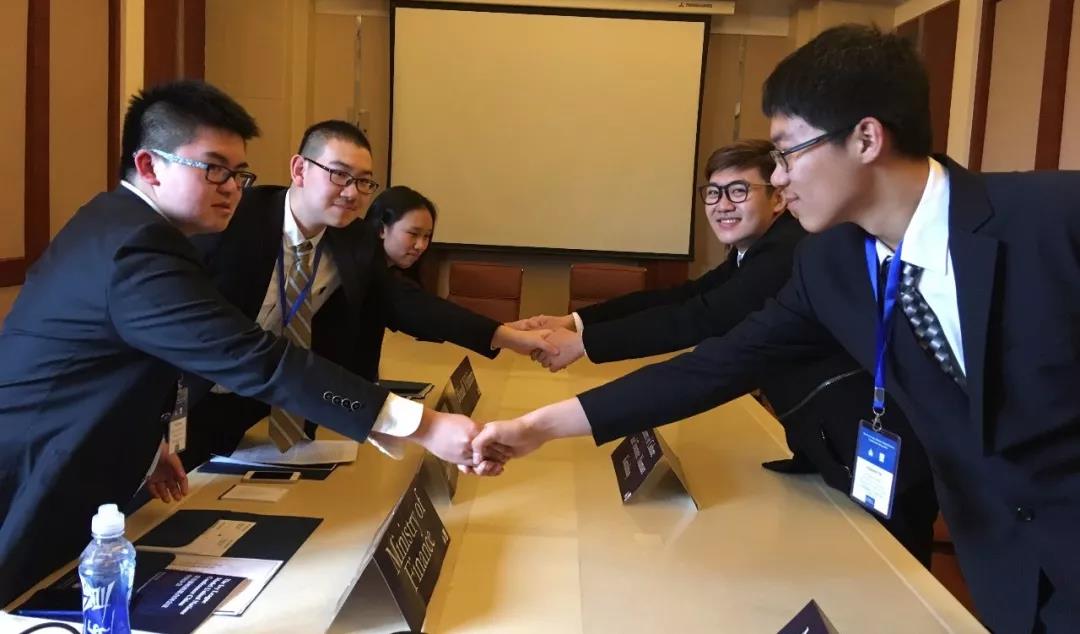 常青藤模拟联合国会议在美达菲高中如火如荼地展开,来自全国15所中学的参赛代表们在各自的会场里唇枪舌战,陈述着各自所代表国家的观点,以争取赢得更多的投票支持。全程英文的表达也考验着所有人的英文功底。
The Ivy League United Nations Conference was held at Macduffie High School. Participants from 15 middle schools across the country spoke fiercely in their respective venues, stating the views of their respective countries in order to win more voting support. The entire English expression also tested everyone's English skills.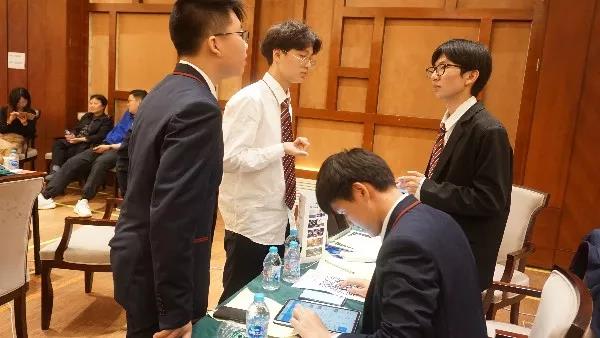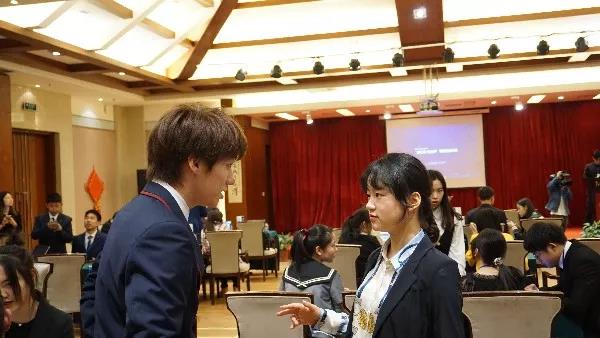 我校举行的模拟商赛在国内外广受学生认可,比赛完全仿真还原市场和公司运营的真实环境与决策过程,赢取最多利益和具有最高投资效率的"学生公司"将成为冠军。学生通过参加模拟商赛锻炼企业管理、团队协作和经济分析能力,在学习与实践中收获成长。
The simulation business competition hold by our school is widely recognized by students at home and abroad. The competition fully simulates the real environment and decision-making process of the market and the company's operations. The "student company" that wins the most benefits and has the highest investment efficiency will become the champion. Students participate in mock business competitions to exercise their corporate management, teamwork, and economic analysis skills.
创新精神
Innovative spirit
发明创造,等同于创造未来!

Invention and creation are equivalent to creating the future!
—— MIT、斯坦福、哈佛、耶鲁、普林斯顿和加州理工一致认同的教育理念。
—— Educational ideas unanimously agreed by MIT, Stanford, Harvard, Yale, Princeton and California Institute of Technology.
美国教育部长阿恩.邓肯认为未来将是科技型经济社会,STEM教育是美国未来保持竞争力的关键。应试教育当道,素质教育空缺的中国基础教育,在STEM教育方面与美国存在较大差距,然而中国学生在数学和科学方面测试成绩远远高于美国学生,因此,将知识与实际运用相结合,提供动手的机会以及创新的平台成为了学校教育的重要任务。我校通过开设STEM课程,组织赴麻省理工研学的冬令营和夏令营,举办海洋机器人比赛等多种形式,激发学生的创造力。
U.S. Secretary of Education Arne Duncan believes that the future will be a technology-based economy and society, and STEM education is the key to maintaining the competitiveness of the United States in the future. Examination-oriented education is in the right position, and quality education is called vacant. China 's basic education has a big gap with the United States in STEM education. However, Chinese students 'math and science test scores are much higher than American students'. , Providing hands-on opportunities and innovative platforms has become an important task of school education. Our school organizes STEM courses, organizes winter camps and summer camps at MIT, conducts marine robot competitions and other forms to stimulate students' creativity.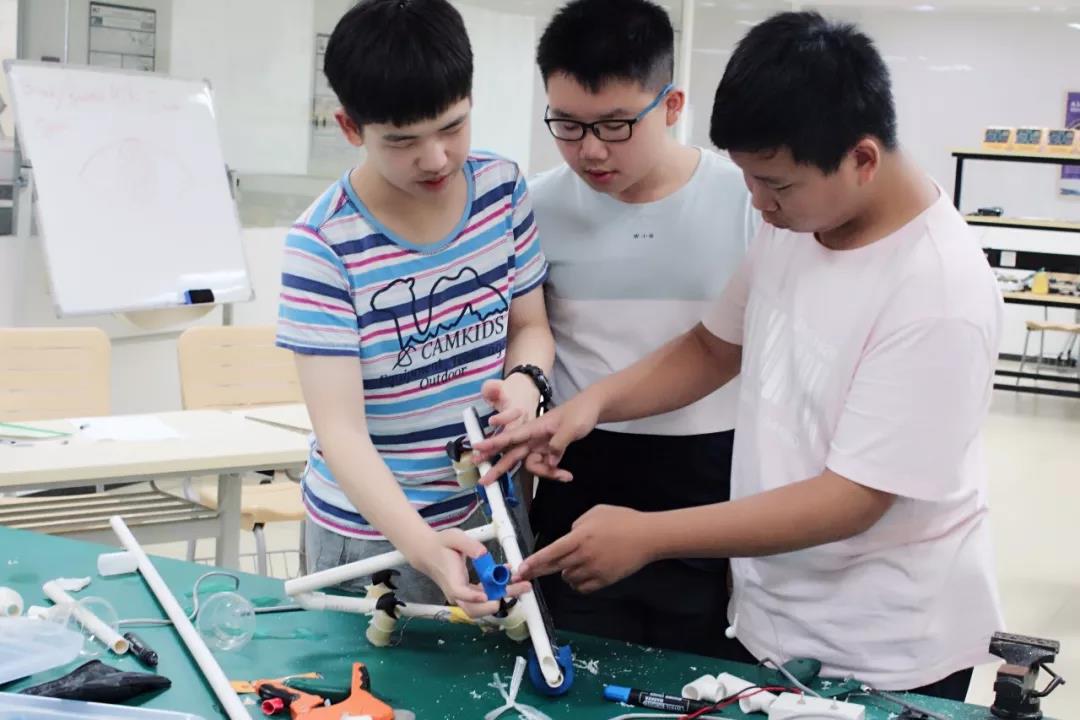 我校举办的海洋机器人夏令营
Marine Robot Summer Camp held by our school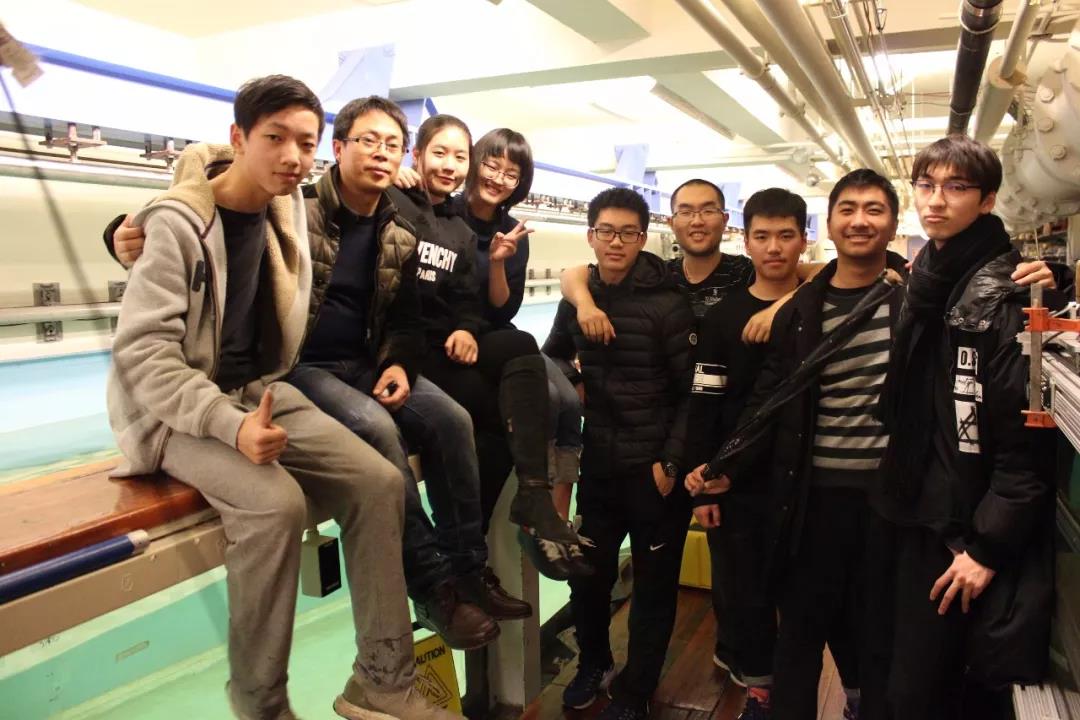 我校学生赴麻省理工实验室学习
Our students go to the MIT laboratory to study
上海美达菲学校以培养学生良好的思维习惯与高尚的道德情操,帮助学生在未来家庭生活和工作中成为一个有价值、有责任心、尊重多元文化的世界公民为办学使命,着力培养学生集体观念,正直品质,和创新精神,鼓励学生追求卓越,今后将举办更精彩丰富的活动惠及更多美达菲学子。
Shanghai Macduffie School aims to cultivate students' good thinking habits and noble moral sentiments, and help students become a valuable, responsible, and respectful multicultural world citizen in the future family life and work. Cultivate students' collective ideas, integrity, and innovative spirit, and encourage students to pursue excellence. In the future, more exciting and rich activities will be held to benefit more Macduffie students.